bespoke
Introducing my brand new portraiture service, for all your gift needs... birthdays, weddings, anniversaries and more!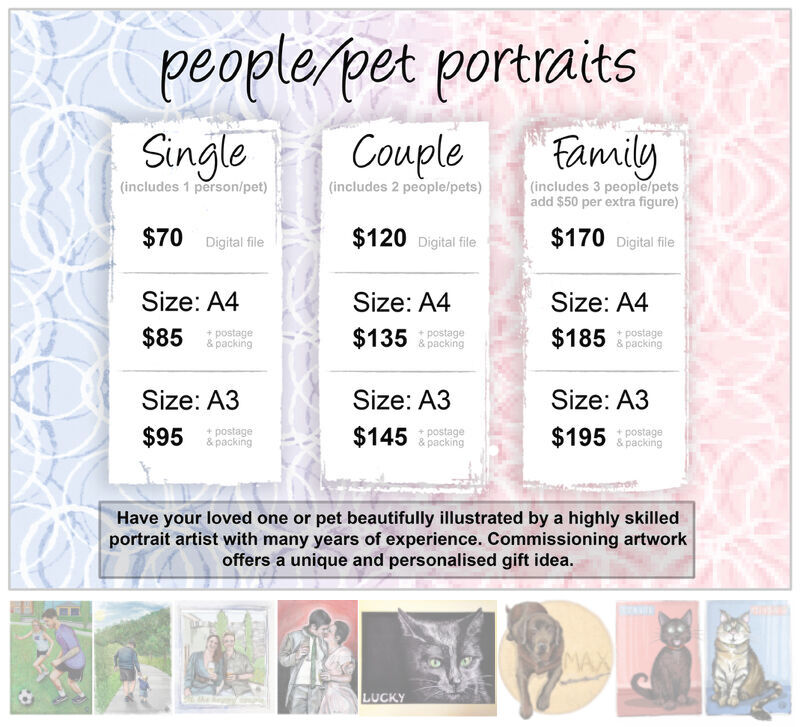 Commissions FAQ:
Payment and Delivery
Payment is made through Stripe, Paypal or Direct Bank Transfer. Before I begin a commission I require a 50% deposit of the fee, with the balance paid when the portrait is finished. Work is carefully packaged in a clear cello bag with backing board and posted in a cardboard mailer. A high resolution digital file (PDF format) is emailed to you when the printed piece is dispatched.
A4 print postage costs $9 and A3 costs $12, sent anywhere in NZ. No refunds I'm afraid - damaged artwork will be replaced swiftly, like-for-like. Overseas delivery will require a quote.
So, how does the process work?
When you've decided to commission me to produce your portrait, I'll ask you to send the photo references that I will work from to
info@mh-illustrates.com
. To achieve the best results, I require (a max of 3 please) well taken photos that are of good quality and in focus. I generally have a turnover time of 1 week for just a digital file and approx 2 weeks for printed portraits (including delivery to you). All photos will of course be wiped from my hard drive upon completion. Finished portraits will be shared on my website/social media as examples of my work, unless specifically requested not to.
You only work digitally now?
I learnt to paint traditionally but my workflow is now purely digital. My digital paintings are completed in much the same way as the traditional ones were. Starting with a sketch then building up tonal values and adding colour but I find I can work faster, easily make edits and have far more control over the finished image. My digital art is often indistinguishable from my old pieces, in print form. Working this way also means I can keep my work truly affordable, as no expensive art materials are involved in it's creation! Interested in something other than a portrait?
Please get in touch.