about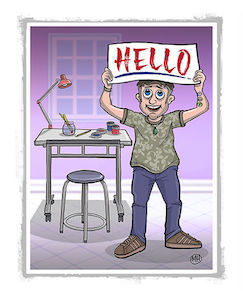 BA (Hons) Illustration, University of Hertfordshire
Foundation Studies in Art & Design, Barnet College
I'm Michael Haynes, a graduate in illustration who is passionate about art and graphic design. Along with my creative interests, I have a great love for music- this often influences the work I produce. I pride myself on my linework, stylised aesthetic and a bold use of colour. Although I'm classically taught, my current creative approach could best be described as 'tradigital'. I enjoy fusing both traditional and digital techniques with my imagery and most of my recent work has been produced solely on an iPad. I'm relocating from the UK to NZ in late summer 2020 and will be seeking representation from an agency, in hope of building up a professional body of work.

I have been freelancing, in my spare time as an artist/illustrator for the past 10 years, selling and exhibiting my work. To date, I've put on 2 successful solo shows and participated in many more group exhibitions across London. I also have 2 years experience of running an art gallery in East London, helping emerging artists from the local area set up and get their work shown.

Key influences: Peter Blake, Klaus Voormann, David Mack, Pete McKee, Ben Tallon, John Squire, Mark Farrow and Peter Saville.